Menu Dei Bambini
In true Italian style, kids are very welcome at Rinaldis. We are a family restaurant and we understand just how important it is to ensure that the little ones have good quality food and at the same time that they have fun and enjoy themselves. It is with this is mind that we made our children's menu including the fantastic "Make your own Pizza", the kids love becoming a little chef and preparing their own food at the table. Below you will find the full children's menu available.
Including the main course and dessert £6.95.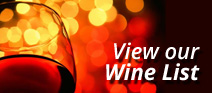 Back to its best! We went on the first Saturday night of the new opening, the new look is great, brilliant atmosphere and the food was fantastic, we will be regular visitors. Anyone not tried it yet, go soon its highly recommended!


Seating times
Lunch

Mon-Sat

12pm - 2pm

Sun

12:30pm - 9:00pm




Dinner

Mon

5:30pm - 9.30pm

Tue-Thu

5:30pm - 10pm

Fri

5:30pm - 10:30pm

Sat

5:00pm - 10:30pm

Sun

12:30pm - 9:00pm

Open All Day Bank Holidays:
12:30pm - 9:30pm