About Rinaldis
I purchased Rinaldis in February 2010 after being a customer for over a decade, during this time I had seen many changes to what was once my favourite restaurant. My goal was simple......... to bring back Wakefield's favourite Italian Restaurant.
To do this we had to close the doors for 4 months while we gave the restaurant a much needed floor to ceiling refurbishment bringing the place back to life with a modern and vibrant new look. Next we needed to recruit a fantastic team of chefs who share the same intense passion as me for Rinaldis. They were tasked with preparing and serving only the best, fresh cooked authentic Italian food. For me, this is paramount to the success of any restaurant.
I then had to find a manager, the perfect head of house - there was only one person I wanted to fill this vital role and I was delighted when Felice Di Giorno rejoined Rinaldis as Restaurant Manager. Most of you will remember Felice as the face of Rinaldis going back over 10 years, it was then I knew I had the team I needed to put Rinaldis back where it belongs: as the finest Italian restaurant in the area.
The feedback we have received since we reopened has been overwhelming and we wish to thank all customers old and new for their kind words - and if you haven't visited the new Rinaldis yet, we look forward to welcoming you to Wakefield's premier Italian restaurant very soon.
Glyn


Dining Menu
View our fantastic food menu, available everyday.
View Menu >

Wine List
Our full and traditional wine list is viewable online.
View menu >

Gift Vouchers
Treat your friends to a Rinaldis Gift Voucher.
Find out more >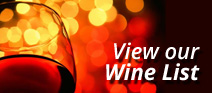 Its a very good indication of the popularity of Rinaldis as whenever I have eaten there its always busy. Rinaldis has a lively friendly atmosphere. The staff are very attentive and certainly have a good place to work.Excellent food and service make this restaurant an easy choice for an evening out.


Seating times
Lunch

Mon-Sat

12pm - 2pm

Sun

12:30pm - 9:00pm




Dinner

Mon

5:30pm - 9.30pm

Tue-Thu

5:30pm - 10pm

Fri

5:30pm - 10:30pm

Sat

5:00pm - 10:30pm

Sun

12:30pm - 9:00pm

Open All Day Bank Holidays:
12:30pm - 9:30pm