Our Reviews
"The meal was great and the price was reasonable. The service was great from a friendly guy called James. I would love to go there again when over from Wigan and I would recommened this to anyone."
davidfcartwright
via tripadvisor.co.uk


"Its a very good indication of the popularity of Rinaldis as whenever I have eaten there its always busy. Rinaldis has a lively friendly atmosphere. The staff are very attentive and certainly have a good place to work.Excellent food and service make this restaurant an easy choice for an evening out."
picallili
via tripadvisor.co.uk


"Had a wonderful lunch - beautiful salmon on a succulent salad. Thank you Glyn for another lovely meal by your amazing chef James - my guests loved it."
diannelodge
via tripadvisor.co.uk


"Rinaldis is, by a clear mile the best place to eat in Wakefield. Always a warm welcome, excellent and delicious food, and fantastic service. Oh, and the LImencello dessert is TO DIE FOR!!! Glyn and his team should be very proud of what they have acheived - can't wait for my next visit."
Lisa B
via tripadvisor.co.uk


"After visiting Rinaldis for the first time last night I was very pleased with the choice of restaurant we picked! The food was amazing, I had mussels and lamb shank both off the black board and they were both amazing and the lamb was cooked to perfection! I went with two friends, one had a steak and one had a chicken dish, everything was amazing! It was well presented and I would say reasonably priced, I would definately recommend going there for any occasion!"
WestYorkshire18
via tripadvisor.co.uk


"Just got back in from Rinaladis, promised a review. What can I say? Absolutely fab night, I work for First Direct, brought my team for a meal, promised it would be worth coming from Leeds for. It was, fab food, fab service, my friend was gluten free. No problem at all. We all so want to go back, I want the anitpasti for 2 !!! Will be back soon for a cosy meal for 2 with my hubby. Bloody fabulous night !!!"
Heather
via sugarvine.com


"The food is incredible and the wine is to die for - best night out I've had in a long time."
Claire
via sugarvine.com


"I have been a customer for years and used to go every week in the good old days, but then it turned. Poor service and poor food. BUT good news it's back to it's original state: good food, good atmosphere and good staff, it's good to see some of the old faces i think Glyn and his missus have done a great job. Great to see a local businessman putting it back on the map."
Jonno
via sugarvine.com


"We went to this restaurant for my birthday and I would go as far to stay this is the best Italian we have ever been to and will certainly be making a return visit. The staff were by far its best asset, attentive and friendly."
Anne Young
via sugarvine.com


"Back to its best! We went on the first Saturday night of the new opening, the new look is great, brilliant atmosphere and the food was fantastic, we will be regular visitors. Anyone not tried it yet, go soon its highly recommended!"
Ga2za
via sugarvine.com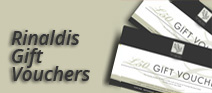 Excellent, good value restaurant. Food has always been good, service is attentive, friendly but not dominating. You should go. I certainly intend to again.


Seating times
Lunch

Mon-Sat

12pm - 2pm

Sun

12:30pm - 9:00pm




Dinner

Mon

5:30pm - 9.30pm

Tue-Thu

5:30pm - 10pm

Fri

5:30pm - 10:30pm

Sat

5:00pm - 10:30pm

Sun

12:30pm - 9:00pm

Open All Day Bank Holidays:
12:30pm - 9:30pm