Bookings
As most of our customers know, Rinaldis doesn't operate a bookings system, we don't believe in holding tables while we have guests waiting to dine. We feel that the fairest system is simply to sit guests on a first come first seated basis and we know this speeds up the turnaround time for any guests waiting to dine with us. Our aim is always to get everyone seated as quickly as possible and in most cases all guests are seated straight away, however if you do join us on a particularly busy evening we have doubled the size of our bar area in our recent refurbishment to make any wait a pleasant one.
If you are a large party planning to visit Rinaldis we would always recommend that you contact us in advance to let us know the number of your group. While this is still not a booking it will allow us to plan ahead with tables and will definitely mean that you are seated much quicker.
Call us on
01924 256 711
for further enquiries, or make an enquiry using our form below.
We look forward to seeing you soon!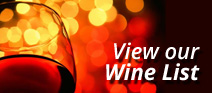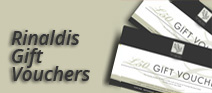 I have been a customer for years and used to go every week in the good old days, but then it turned. Poor service and poor food. BUT good news it's back to it's original state: good food, good atmosphere and good staff, it's good to see some of the old faces i think Glyn and his missus have done a great job. Great to see a local businessman putting it back on the map.


Seating times
Lunch

Mon-Sat

12pm - 2pm

Sun

12:30pm - 9:00pm




Dinner

Mon

5:30pm - 9.30pm

Tue-Thu

5:30pm - 10pm

Fri

5:30pm - 10:30pm

Sat

5:00pm - 10:30pm

Sun

12:30pm - 9:00pm

Open All Day Bank Holidays:
12:30pm - 9:30pm